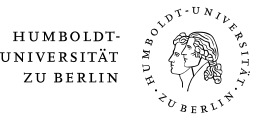 Center for Transdisciplinary Gender Studies
---
The Center brings together everything necessary for a scholarly investigation of gender relations: various academic disciplines, diverse agents of knowledge and knowledge production, and a multifaceted perspective on the examination of the gender category that draws upon all theoretical and practical fields.

Notice of election of the Center Council at the Center for Trandisciplinary Gender Studies.
Elections will be held on June 8, 2021. Election nominations must be submitted by May 24. 
 Election Notice
---
Symposium Technosomata. Transhistorical Perspectives on
Techno-Bodies in Sociocultures from an Intersectional Perspective
July 5th and 6th, 2021, online
program and registration
---
Call for applications: Teaching assignments in Gender Studies in the winter semester 2021/22, the application period ends May 15th, 2021
further information
---
Save the Date: Digital Conference by the DFG-funded  research  group "Law-Gender-Collectivity": "Manufacturing Collectivity. Exploring the Nexus of Gender, Collectivities, and Law" and PhD-Workshop "Exploring Collectivity. Interdisciplinary Methodologies"
June 2-4, 2021
more
---
Statement from the ZtG - Maisha Maureen Auma
 read more
---
Please note that the Center as well as the library are still closed. You can contact us via mail. Teaching for the BA/MA Gender Studies will take place online. Our range of courses is listed in AGNES.
Current Information regarding Coronavirus
Diversity at Humboldt-Universität zu Berlin
---
You can find gender events at HU Berlin online:
HU gender events in the current semester

Event archive/calender

Announce upcoming events at HU
---

Queer Pain. Schmerz als Solidarisierung, Fotografie als Affizierung. Zu den Fotografien von Albrecht Becker aus den 1920er bis 1990er Jahren
Katrin Köppert, Neofelis-Verlag, 2021
---
Wenn Rechte reden - Die Bibliothek des Konservatismus als (extrem) rechter Thinktank
Lilian Hümmler, Marta Press, 2021
---
Co-Parenting und die Zukunft der
Liebe - Über post-romantische Elternschaft
Christine Wimbauer, transcript, 2021
---
Elahe Haschemi Yekani
Palgrave Macmillan, 2021
---
Almut Peukert, Julia Teschlade,
Christine Wimbauer, Mona Motakef,
Elisabeth Holzleithner (Hg.),
GENDER Sonderheft, Band 5
Budrich, 2020
---
Meike Brückner, oekom, 2020
---
Göde Both, Budrich, 2020
---
Anson Koch-Rein, Elahe Haschemi Yekani und Jasper J. Verlinden (Hg.)
European Journal of English Studies, 2020, Inhaltsverzeichnis
---
Gabriele Dietze/Julia Roth (Hg.)
transcript, 2020
---
Ulrike Auga
Routledge, 2020
---
Christine Wimbauer, Mona Motakef
Campus Verlag, 2020
---
Claudia Bruns
Böhlau, 2020 (Dezember)
---