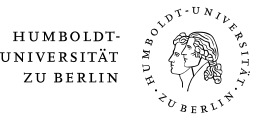 Center for Transdisciplinary Gender Studies
---
The Center brings together everything necessary for a scholarly investigation of gender relations: various academic disciplines, diverse agents of knowledge and knowledge production, and a multifaceted perspective on the examination of the gender category that draws upon all theoretical and practical fields.

Please note that the Center as well as the library are still closed. You can contact us via mail. Teaching for the BA/MA Gender Studies will take place online. Our range of courses is listed in AGNES.
Current Information regarding Coronavirus
Diversity at Humboldt-Universität zu Berlin
---
Student Counselling
If you need support or have questions you would like to direct at our student advisor, Justus Lou Witte, write a message to wittejus@hu-berlin.de
They are able to advise you via mail, telephone or video chat.
---
You can find gender events at HU Berlin online:
HU gender events in the current semester

Event archive/calender

Announce upcoming events at HU
---

Elternschaft und Familie jenseits von Heteronormativität und Zweigeschlechtlichkeit
Almut Peukert, Julia Teschlade,
Christine Wimbauer, Mona Motakef,
Elisabeth Holzleithner (Hg.),
GENDER Sonderheft, Band 5
Budrich, 2020
---
Meike Brückner, oekom, 2020
---
Göde Both, Budrich, 2020
---
Anson Koch-Rein, Elahe Haschemi Yekani und Jasper J. Verlinden (Hg.)
European Journal of English Studies, 2020, Inhaltsverzeichnis
---
Gabriele Dietze/Julia Roth (Hg.)
transcript, 2020
---
Ulrike Auga
Routledge, 2020
---
Christine Wimbauer, Mona Motakef
Campus Verlag, 2020
---
Claudia Bruns
Böhlau, 2020 (Dezember)
---