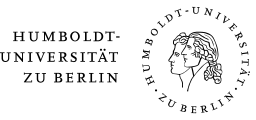 PC and Internet
IMPORTANT NOTE!
Due to the pandemic, the computer lab will remain closed until further notice. We will inform you about changes on this website. However, we are available by e-mail.
The computer lab is located on the 1st floor at Georgenstraße 47 (accessible by elevator), room 1.14. The computer lab staff offers competent and friendly support to those who seek help with questions that arise while using the available computers or when configuring private devices (laptops, smartphones ...). If you would like to expand your knowledge and experience with software, feel free to join our computer courses (German language only).
Computer Lab
Please see the note above regarding current opening hours!
Regular opening hours:
During the semester: Monday-Thursday 9:00 am to 7:00 pm, Friday 9:00 am to 6:00 pm
During the semester breaks: 9:00 am to 5:00 pm

Equipment:
6 multimedia computers
All computers run on Windows 10.
Office 2016, Adobe Acrobat Professional, Libre Office, graphical software Irfanview and GIMP, Citavi 5 and 6, MAXQDA, VLC, Mozilla Firefox, Mozilla Thunderbird and more are installed.
Internet is accessible via ethernet and WiFi.
Two multimedia computers are equipped with Photoshop and Omnipage, and are connected to a scanner (1 flat bed scanner and 1 document scanner).
Notebooks (Windows notebooks and 1 Macbook) and other technical devices can be borrowed for courses and for working in the computer lab.
Our computer lab staff can be contacted by e-mail:
Courses
The Center for Transdisciplinary Gender Studies regularly offers computer courses to expand personal skills or professional qualifications. These are offered depending on capacity and demand and take place on the 1st floor at Georgenstraße 47, room 1.14.
Please note that the courses are only offered in German. The courses are public and free of charge. However, students of Gender Studies have priority in the event of overbooking.
Further information on the digital course offerings will follow soon.
Support/Service
The computer lab staff offers support to those who seek help with specific problems with a computer or software. They can also be contacted for problems with the setup of WiFi and the HU email account.

At the moment we are offering support online, either via Zoom or Jitsi Meet. To register please send a short E-Mail describing the question or problem to ztg-pc-pool[at]gender.hu-berlin.de.
Wer will get back as soon as possible to support you.
Meanwhile, here are some links that might already be helpful for the start.