Zentrum für transdisziplinäre Geschlechterstudien
News
Interdisciplinary Summer School "Law and Critical Social Justice"
In cooperation with the ZtG and the Humboldt Law Clinic (HLCMR), the Chicago DePaul University is offering a summer school in Berlin for the fourth time. Application deadline: 17th of June. More information 
 here.
---
Lecture series and Workshop, Summerterm 2018:
Topics in Feminist Philosophy
The lecture is every Tuesday, 6p.m., Unter den Linden 6, room 3035/38.
The workshop takes place Wednesdays, 12p.m., Dorotheenstr. 24, room, 2102


 Flyer

 Poster

 Website
---
International Conference of the Center for Transdisciplinary Gender Studies (ZtG) and the Berlin Institute for Empirical Research on Integration and Migration (BIM) at the Humboldt Universität zu Berlin
Care - Migration - Gender.  Ambivalent Interdependencies from a Transdisciplinary Perspective
Thursday, 31st January 2019 and Friday, 1st February 2019 at the Humboldt Universität zu Berlin (Senatssaal)
Call for papers and more information
---
Repository "GenderOpen" is online!
The wordwide's first online repository for Gender Studies has been launched on the 4th of December. Everyone is welcome to access and use our repository GenderOpen to read and publish texts!

More information can be found on the GenderOpen blog. 
---
Position paper of the ZtG
regarding anti-Genderism, right-wing populism and assaults
---
The ZtG's Gender Library, in cooperation with further european women's libraries, provided data for the first EU-database for Gender Studies at the European Institute for Gender Equality in Vilnius
---
New in Print
Praxis und Revolution
Eine Sozialtheorie radikalen Wandels
Eva von Redecker
Campus Verlag, 2018
mehr
---
Penetrierte Männlichkeit
Sexualität und Poetik in deutschsprachigen Erzählungen der literarischen Moderne (1905-1969)
Benedikt Wolf
Böhlau Verlag, 2018
mehr
---
Blutsbande
Verwandtschaft als Kulturgeschichte
Christina von Braun
Aufbau Verlag, 2018
more
---
Die Sprache der Befreiung Frauenbewegung im postkolonialen Frankreich
Aline Oloff
transcript, 2018



more
---
Alter und Geschlecht
Soziale Verhältnisse und kulturelle Repräsentationen
Elisabeth Reitinger, Ulrike Vedder und Pepetual Mforbe Chiangong (Hrsg.) 
Springer VS, 2018
more
---
Ökonomie jenseits des Wachstums - feministische Perspektiven auf die (Post)Wachstumsgesellschaft
feministische studien, 2/2017
more
---
Actors, Institutions, and the Making of EU Gender Equality Programs
Petra Ahrens
palgrave macmillan, 2018
---
Recht auf Trauer
Bestattungen aus machtkritischer Perspektive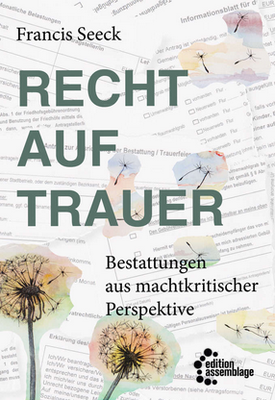 Francis Seeck
edition assemblage 2017

more
---
Queer Futures
Reconsidering Ethics, Activism, and the Political
Elahe Haschemi Yekani, Eveline Kilian, Beatrice Michaelis (Hrsg.)
Routledge, 2013, new in paperback 2017
more
---
Klinisch rein
Zum Verhältnis von Sauberkeit, Macht und Arbeit im Krankenhaus
Käthe von Bose
[transcript], 2017
more
---
Trans Studies : historische, begriffliche und aktivistische Aspekte
Persson Perry Baumgartinger
Wien : Zaglossus, 2017


more
---
rebootING
Handbuch Gender-Lehre in den Ingenieurwissenschaften
Corinna Bath, Göde Both, Petra Lucht, Bärbel Mauss, Kerstin Palm (Hg.) 
LIT Verlag, 2017
more
---
Die Gefühle der Schwangeren
Eine Geschichte somatischer Emotionalität (1780 - 2010)
Lisa Malich
[transcript], 2017
more
---
Grenzziehungen von »öffentlich« und »privat« im neuen Blick auf die Geschlechterverhältnisse

Bulletin Texte 43,
Zentrum für transdisziplinäre Geschlechterstudien
2017
more recent publications
---